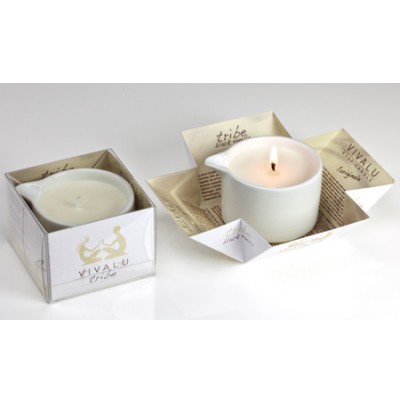 TRIBE VIVALU VANILLA MASSAGE CANDLE
Cosmetic CandleTRIBE VivaLu Vanilla - SENSUAL
scented and sensual skin.
Active good humor and it ignites a passion with a simple moisturizing massage. For all skin types.
Dermatologically Tested.
Light the cosmetic candle and let the flame melts the soft cosmetic butters in a delicious massage balm which nourishes and perfumes you skin. The candle melts at physiological temperature, slightly swarm. Pour some drops on your skin and massage untill completely absorded.
Produced with the best vegetable cosmetic raw material, cotton wick without lead and bleaching without chlorine. Do not contains animal derivate material. Do not contains dyes. Product not tested on animals.
Made in Italy
STAMPISSE S.a.s. - PORTA DELLA CAVINA Rivenditore autorizzato
a Montepulciano e Pienza
specializzato in fragranze e profumatori per ambiente (home fragrances)