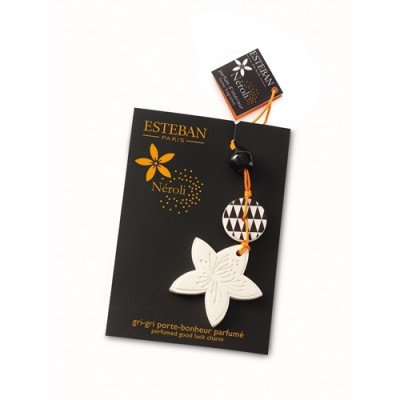 NEROLI SCENTED CHARM.
GRI-GRI SCENTED good luck CHARM continously returns the essence of the perfume. It'll become your talisman and it'll smell during your days! And 'perfect to scent closets or the inside of the car and can be transformed into a key ring, which ring is designed to provide. It's even perfect to scent your wardrobes, clothes and car; it could also be transformed into a king ring, thanks to the ring you'll find inside the packet.
Head tones: blackcurrant, bergamote of Sicily.
Heart tones: neroli. white genarium jasmine
Base tones: patchouli and musky harmony.
STAMPISSE S.a.s. - PORTA DELLA CAVINA Rivenditore autorizzato
a Montepulciano e Pienza
specializzato in fragranze e profumatori per ambiente (home fragrances)