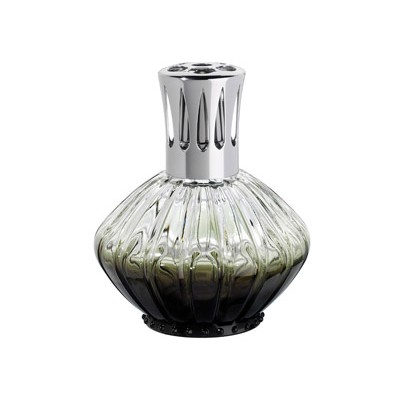 Grey Corollissima glass LAMPE BERGER Lamp. Tulip flame cap cover. 310 ml Capacity.
Your House's air is fresh and pleasantly perfumed.
DEODORIZING: catalysis phenomenon eliminates bad odors such as cooking, tobacco and cigarette smoke. LAMPE BERGER diffusion system destroys the molecules responsible for odors. The air is purified thanks to the AIR PUR System 3C ® burner.
SMELLING: dissemination System offers the finest quality of air fresheners. This patented innovation enables an extremely rapid and lasting fragrance dissemination: 20/30 minutes of diffusion is equivalent to many hours of comfort. Inspired by nature, memories and travels, the entire collection of about thirty scents invites you to have the experience of the every day pleasure and wellness.
FURNISHING the house: the LAMPE BERGER house collection is vast. Variety of styles, colors, materials ... A range of lamps to suit all interiors become indispensable accessories to decorate the house.
STAMPISSE S.a.s. - PORTA DELLA CAVINA Rivenditore autorizzato
a Montepulciano e Pienza
specializzato in fragranze e profumatori per ambiente (home fragrances)